Discover the new reports and features in Ignitia online curriculum, so you can start the new school year on the right foot!
Detailed Student Grading Report
To better identify students who need additional assistance, teachers now have the option to include students who have not started working in a course on the Detailed Student Grading Report. Enrollments that are "On Hold" or "Archived" cannot be included in this report.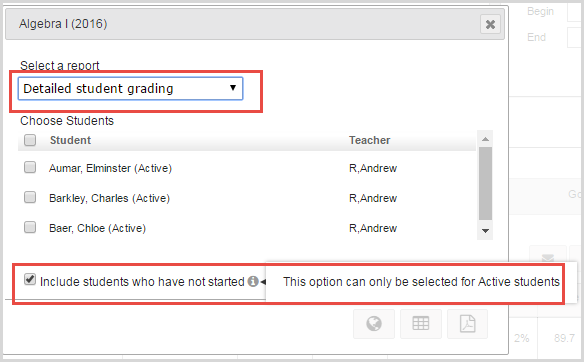 Course Completion Breakdown Report
In addition to viewing the percentage of progress among students whose coursework is currently underway, the Course Completion Breakdown Report now allows administrators to view active students who have not started or already completed their coursework in a given subject.
New Teacher Breakdown Filter
This new filter for the Course Completion Breakdown Report helps administrators track which teachers have students falling behind in their courses.
Translate Tool Gains 3 New Languages
Burmese, Haitian Creole, and Somali have been added to Ignitia's translate tool, a feature that allows students to read lessons in their native language. The languages that support audio translation via the text-to-speech feature are indicated by a speaker icon. In total, Ignitia is now available in 22 languages.
Single Sign-On Solution
With the release of Ignitia's single sign-on solution last December, there's no need to remember individual login credentials for the many online applications you use each day. Single sign-on is available at no additional cost and allows individuals who use Google or Microsoft Office 365's Azure as their Identity Provider to use those same credentials for one-click access to Ignitia online curriculum!
For additional information regarding updates to Ignitia online curriculum, please call 877-688-2652.