Introducing LIFEPAC's New Look for Grades K-2
Newly redesigned LIFEPAC courses for kindergarten, 1st grade, and 2nd grade enhance learning with modern and eye-catching lessons in the five main subjects of Bible, history and geography, math, language arts, and science. Featuring the same Christian worldview you've come to expect from LIFEPAC, the content is now presented in its most kid-friendly design yet!
GRADES 3-5
With self-directed worktexts and a strong Bible-based foundation, LIFEPAC challenges upper elementary students to master skills before moving to new content.
GRADES 6-10
LIFEPAC motivates young teens with contemporary-designed worktexts that can be completed in just three or four weeks, building student confidence.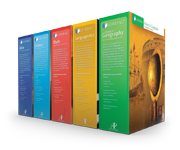 GRADES 11-12
As AOP's first and most time-trusted curriculum, LIFEPAC has a tried-and-true mix of tradition and experience that prepares upperclassmen for college coursework.