Alpha Omega Publications — Your Partner in Christian Education

Serving Christian schools with award-winning Christian curriculum since 1977
Welcome to Alpha Omega Publications! Whether you're an established Christian school or just getting started, we're proud to provide you with many outstanding Christian curriculum choices, Christian resources, and service support options! For over 35 years, we've been working hard to provide Christian schools with trusted and proven curricula options for grades PreK-12. Founded by teachers and educators, we share in the desire to teach strong Christian values while promoting academic excellence. Our innovative, award-winning curriculum options include Ignitia™, Switched-On Schoolhouse®, LIFEPAC®, and Horizons.
We invite you to come browse our website for curriculum information, free resources, events, and more! Our purpose at Alpha Omega Publications is to make your Christian school a success. We're here to provide you with the curriculum solutions you need to accomplish your goals. We look forward to serving you, and invite you to contact us if you have any questions.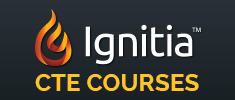 Open the door to career and college readiness for students at your Christian school with Career and Technical Education (CTE) courses. Available for grades 7-12, CTE courses encourage students to explore, compete, and succeed as lifelong learners beyond high school.
Offering programs for three and four-year-olds, Horizons Preschool curriculum builds academic, social, and spiritual foundations for your youngest learners, while teaching them to know that they are God's children.
Schools Blog
Ignitia Updates Enhance Speed, Course Customization, and More

Posted On : 02.23.15



AOP is pleased to announce the release of several new Ignitia features that enhance the online curriculum's speed, customizability, and more....
Reading Nonfiction to Preschoolers Improves Vocabulary

Posted On : 02.19.15



Though reading aloud to students is a common part of preschool and elementary school, the type of literature teachers choose to read aloud may have a greater impact on learning than you think....
Anchorage Christian School Continues Growth with Ignitia

Posted On : 02.19.15



Established in 1972 in America's largest state, Anchorage Christian School (ACS) has come a long way from its humble beginning. Originally housed in an old military Quonset hut, the school has occupied six different buildings in the past 40 years and now serves nearly 450 students in grades K-12 in the state of Alaska....
Tech Tip: Ignitia Login Checklist

Posted On : 02.19.15



Problems signing into Ignitia? No problem! Before you call for help, check out our quick checklist of things to consider when attempting to access Ignitia online curriculum....
Anticipating and Responding to the Changing Needs of Education

Posted On : 01.15.15



CEO Beth Te Grotenhuis shares what she has learned through nearly three decades working in education, including the principles she applies to navigating the industry's ever-changing needs....